Cosmetic & Restorative Dentistry
Crowns & Bridges Implant Restorations
Crowns are porcelain or porcelain fused to metal restorations used primarily to repair broken or fractured teeth, improve the prognosis for a tooth that has had previous root canal therapy or change the shape or color of a tooth. A bridge fills a space where a tooth once was, and is generally three or more crowns fused together. When damage to a person's teeth is extreme and beyond repair, we can use porcelain or porcelain "fused on gold" crowns to restore the smile. This is an extremely reliable technique for repairing the most severe of dental problems, even permanently replacing missing teeth to offer a complete smile and a functional bite.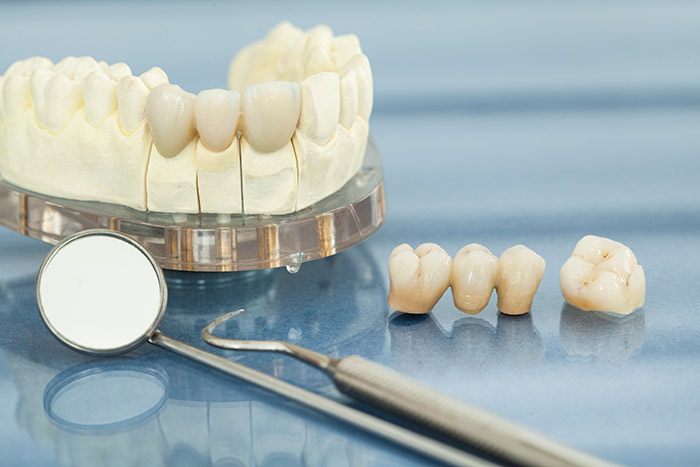 Implant Restorations
The implants are tiny titanium posts which are placed into the jawbone where teeth are missing. The bone bonds with the titanium, creating a strong foundation for artificial teeth. In addition, implants can help preserve facial structure, preventing the bone deterioration which occurs when teeth are missing. Dr. Tudose works carefully to place the Implant Crown to its most natural and functional form. Dental implants are designed to provide a foundation for replacement teeth that look, feel and function like natural teeth. The person who has lost teeth regains the ability to eat virtually anything and can smile with confidence, knowing that teeth appear natural and that facial contours will be preserved.
Full Dentures, Partial Dentures & Overdentures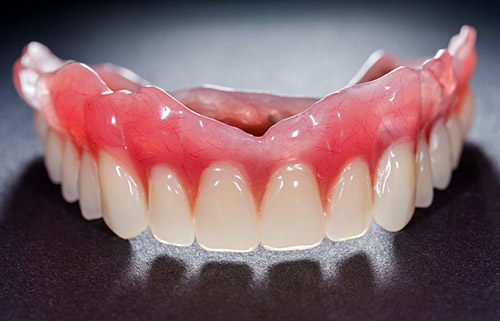 When many of your teeth are loose or painful, they may be beyond saving. This condition is usually caused by advanced periodontal disease. If you are not a good candidate for implants, then removing your teeth and replacing them with a denture may be the best way to eliminate the infection and restore the health of your mouth. Periodontal disease causes bone to be lost; if it's not caught in time, there's so little support for the teeth that they have to be removed. A Full Denture replaces all the missing teeth in the upper and lower jaw. When the entire procedure is completed in one day, it's called an Immediate Denture. A Partial Denture is a removable dental appliance that replaces multiple missing teeth. It can be attached to the teeth with clasps (metal or tooth colored) or it can be attached to the teeth with crowns with precision attachments (hidden clasps). An Implant Overdenture is a denture that has some sort of direct connection to dental implants. The connection helps secure the Full Denture into place, while overcoming the instability and lack of retention of a common complete denture. This is a good treatment option for an individual who requires a full denture, but wants to achieve a more stable and less bulky type of restoration.
Root Canals
A root canal results in the saving of the tooth instead of extracting it. In the past, if you had a tooth with a diseased nerve, you'd probably lose that tooth.
Inside each tooth is both the pulp and the nerve. The nerve is the vestige of the tissue that originally formed the tooth. Once the tooth has been in the mouth for a time, the functioning of the nerve is no longer necessary.
When a tooth is cracked or has a deep cavity, bacteria can enter the pulp. Germs can cause an infection inside the tooth. Left without treatment, pus builds up at the root tip in the jawbone, forming a "pus-pocket" called an abscess. An abscess can cause the pulp tissue to die. When the infected pulp is not removed, pain and swelling can result. Certain by-products of the infection can injure your jawbones and your overall health. Without treatment, your tooth may have to be removed.
Treatment often involves from one to three visits. During treatment, Dr. Tudose will remove the diseased pulp. Next the pulp chamber and root canal(s) of the tooth are cleaned and sealed. Often posterior teeth that have endodontic treatment should have a cast crown placed in order to strengthen the remaining structure. Then, if you continue to care for your teeth and gums with regular brushing, flossing and checkups so that the root(s) of the restored tooth are nourished by the surrounding tissues, your restored tooth can last a lifetime.
Most of the time a root canal is a relatively simple procedure with little or no discomfort, involving one to three visits. Best of all, it can save your tooth and your smile!